Some of the links in this post may be affiliate links. This means if you click on the link and purchase the item, I will receive an affiliate commission at no extra cost to you. All opinions remain my own.
The transition from straight to naturally curly is not the easiest process. It's a journey, right? If you're not going to do the big chop, then you have a whole other set of obstacles to face. So, I'm going to share my favorite 10 tips for transitioning curls.
While I was transitioning, YouTube wasn't as popular as it is now and the amount of influencers that I could relate to varied. I relied heavily on my hairdressers and friends with curly hair to figure it out. So I want to share a few general rules along with my personal tips for a successful transition.
#1 Stay Away from the Heat!
No blowouts or hot tools. Heat damage is probably the worst thing you can do while transitioning. It's also the hardest part of the entire process, especially if that is what you're used to doing daily. Trust me, you're going to get frustrated as you watch some areas grow in curly while the ends are straight. However, there are solutions for that (See #7 below). Also, occasionally straightening your hair with hot tools can possibly start you back at square one.
#2 Stay on top of your trims.
You don't have to big chop but what I noticed is that everytime I trimmed, my curls got a little tighter and bouncier. That's because I was slowly removing the dead ends. Think of it as dead weight just holding your curls back from their full potential.
#3 Consider a Protective Style
This tip is not totally necessary but it was what I personally did while I transitioned. My hair was damaged so badly with bleach and relaxer and it started breaking off. I put in a partial sew-in weave because I was feeling so embarrassed .
The majority of my hair was in a protective corn-row with my hairline and a horseshoe section left out. That was done so I could hide the weft and occasionally put my hair up into a ponytail. There were pros and cons to this but it helped the hair growth transition move faster while hiding the damage. Find out my pros and cons of wearing a sew-in weave for long periods of time.
#4 Limit Your Use of Silicones
Silicones offer a temporary solution for frizz, they help with slip in our conditioners, and add shine but it's short lived. In the long term, they can weigh down your curls and cause buildup. They are harder to remove so you really need to clarify to get them out of your hair. The more often you use silicones, the more often you will have to clarify. A consistent cycle can lead to further dryness.
In my opinion, silicones are not that evil. In fact, there are a few instances when I think they're ok. For example, if you swim in chlorinated water, silicones can help create a barrier between your hair and the chlorinated water. They also provide protection from heating treatments (if you still use them while transitioning). However, certain oils, conditioners, and using a swim cap can offer the same protection without the use of silicones.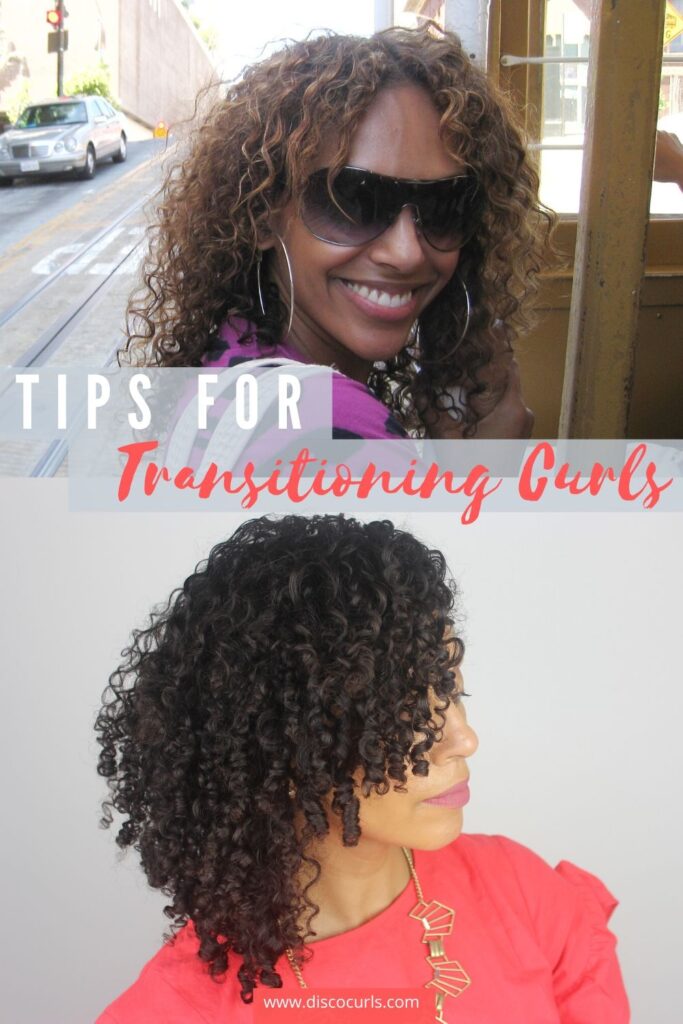 #5 Don't Forget to Clarify!
It might sound like I'm contradicting myself after reading #4 but it's still important to clarify. Excess buildup, debris, and possible fungus can happen and cause a number of problems if it's not addressed.
My weekly wash and go's go something like this. Wash the hair twice per week. Co-wash one day and clarify the other. Because I hardly use silicones, I can safely use gentle clarifying shampoos like Kinky Curly Come Clean Shampoo to clarify.
However, if you do use products that contain non-soluble silicones you will more than likely need a sulfate shampoo to get rid of the buildup. Just be sure to follow up with a deep conditioner afterwards.
#6 Weekly Deep Conditioners
Repairing your hair with deep conditioners while it is transitioning is a definite yes because you want to prevent further damage. I found it common to experience breakage and thinning at the line between new growth and the relaxed/heat damaged hair.
#7 Train Transitioning Curls with these Tips
Finger coils are amazing for transitioning curls. They keep the curls uniform and just train problem areas. You can also use perm rods or flexi-rods on straight ends to help match you natural curl pattern.
#8 Search for your Curl Twin and Not Your Curl Crush
There's a big difference between relating and wanting. Don't expect to get the same results as your curl crush if you don't share the same hair texture, porosity, and density. You may not get the results they get. They might offer great general advice but listening to your curl twin will give you a more realistic expectation.
#9 Rotate Your Products
If you've been using the same product for a while and your curls don't look like they first did, try something new. You'd be surprised how a simple switch can revive your transitioning curls.
#10 Embrace the Journey.
It's not going to be easy. You will learn a lot but the transition itself does feel like a transformation from within. I felt so happy when I reached the end of my journey. Through experience and a lot of trial and error, I feel a bit like a curl expert ready to exchange my expertise to someone in need of curl advice.
I'd love to hear from all of you about your favorite transitioning tips down below in the comments. Want to hear more transition tips for curls? Watch the video below.