As we inch closer to Valentine's Day, I thought I'd discuss my love for beauty products that smell like roses. This beautiful flower hasn't always been my favorite but my body chemistry seems to work well with it now. Here's a small list of 5 rose scented products that uplift my beauty routine.
TGIN Curls & Roses Collection
Many of my hair products smell like fruit or vanilla so I was thrilled to try out some of TGIN's Rosewater products. This collection uses rosewater and hibiscus as their key ingredients.
Some of the products from this line contain silicones but I managed to create a wash day routine with a few of their silicone-free items. My personal favorites and the one I used in the video include:
Schmidt's Rose & Black Pepper Deodorant
Schmidt's Rose & Black Pepper natural deodorant is my favorite item from this list. This hemp seed oil enriched deodorant has a beautiful floral rose fragrance mixed with a touch of black peppercorn. Most importantly, this formula is perfect for sensitive skin if you have allergies to baking soda.
Heritage Store Rosewater Spray
This cult-favorite face spray continues to be a staple in bathrooms and for good reason. It helps tone, soothe, and calm the skin. Similarly, it makes an amazing makeup setting spray.
This natural product only uses two ingredients, Hydroessential Rose Oil and Vor-Mag water and is free of dyes, alcohol, parabens, sulfates, and phthalates. It is definitely one of my must-have self-care products.
Now Essential Oils Rose Absolute Oil
After watching "The Crown" on Netflix, I learned that queens are anointed with oils. That's why I'm doing the same for myself. Now Essential Oils Rose Absolute oil contains a 5% rose oil and jojoba mixture that leaves a gentle yet fragrant hint of rose wherever you place it.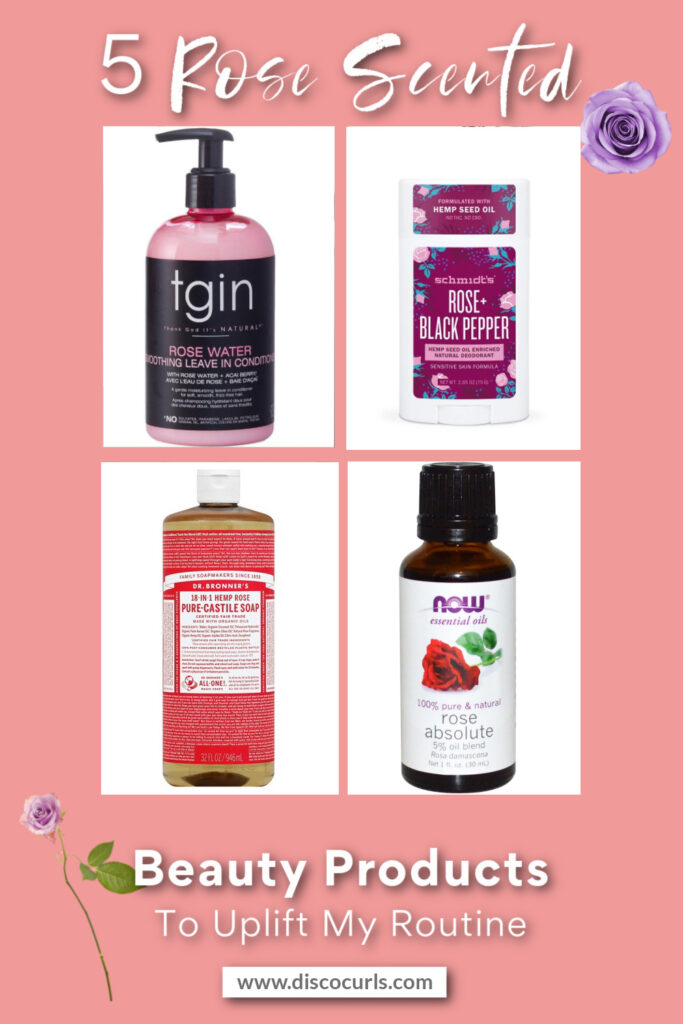 I love adding touches of it on my neck, décolleté, my waist, and between my eyes for third-eye activation. Above all, mixing it with my body lotion or smoothing it in my hair also makes me feel irresistible.
Dr. Bronner's 18-In-1 Hemp Pure-Castile Soap Organic Rose
Last on the list is the Dr. Bronner's 18-In-1 Hemp Pure-Castile Soap Organic Rose. This helps makes any shower more luxurious. Further, it helps the floral essence last on your body throughout the day.
Dr. Bronner's has been in the soap making business for over 150 years and his 'magic soap' can be used 18 different ways. Some of my favorite ways to use it is as:
A body wash
A clarifying shampoo (on occasion)
A face wash (just be careful of your eyes)
A laundry detergent for my delicates
Incorporating rose scented beauty products has been an easy way for me to uplift my spirits and bring a romantic vibe into my daily routine. What are some of your favorite rose scented must haves? Share with the community down in the comments.