Some of the links in this post may be affiliate links. This means if you click on the link and purchase the item, I will receive an affiliate commission at no extra cost to you. All opinions remain my own.
There are tons of DIY Hair Mask recipes out there in the world but did you know that using baby food can simplify the process? Well, find out why making a baby food hair mask is beneficial and try this recipe for your next DIY.
Some of you might wonder, why I would use baby food in my hair? Here are three reasons why.
Baby food helps cut the prep time in half by already being pureed and super smooth.
You don't have to worry about hard-to-rinse-out food particles or large chunks in the hair.
It's affordable. You can get a jar of baby food for about a dollar and up.
Banana Baby Food Hair Mask
One of my favorite easy hair masks uses banana baby food. Banana is literally one of the hardest fruits to get out of your hair so I really appreciate using jarred or pouch style for any type of hair mask that requires a banana. I recommend using organic blends for these types of hair masks to avoid the added preservatives.
This is such an easy recipe because it only includes 3 ingredients.
1 Jar or Pouch of Banana Baby Food
2 tablespoons of olive oil
1 tablespoon of honey
Bananas are super hydrating, contain potassium, and are helpful with dry scalp. Olive oil nourishes the scalp, conditions the hair, and improves elasticity. Lastly, honey is an excellent humectant that treats dandruff, conditions, moisturizes and makes the hair shiny.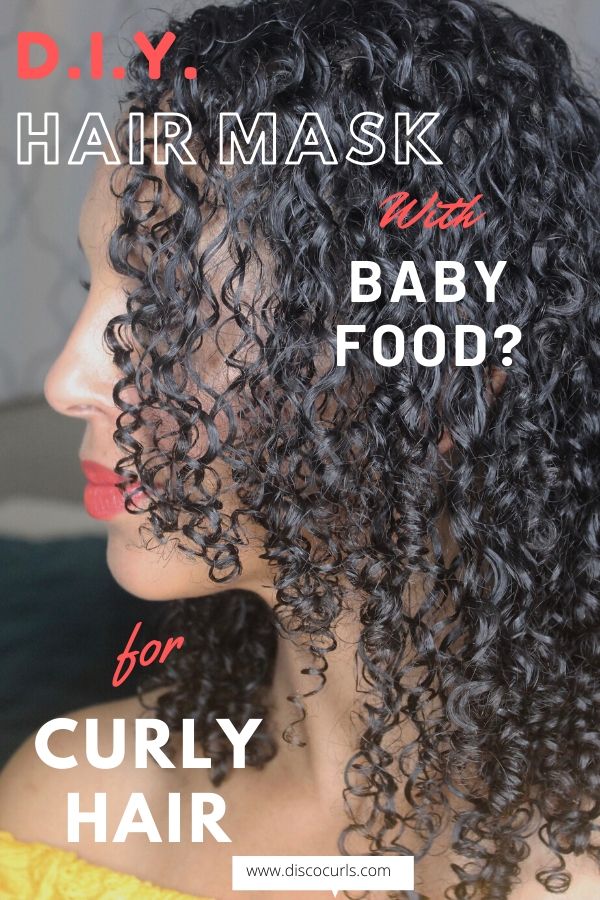 I like to have a few other tools handy when I'm doing DIY masks to avoid a mess. First, I make sure to cover my shoulders with a towel. Also, I like to use a hair coloring brush for the application and a disposable shower cap that I can throw away after I'm done.
How to Make & Apply Mask
The first thing I do is combine all of the ingredients. I get a small bowl and add my jarred banana baby food, olive oil and honey. You can use a fork or a whisk to blend it together and then your mask is ready to go.
If your hair and scalp are dirty and due for a wash then cleanse first then proceed to the next step. If not, then rinse and detangle the hair well. Next, part the hair into 4 sections and start applying the hair mask from the back working up to the front. I like to make sure that all of my strands are saturated well. Then I clip my hair back and put on my plastic cap. Leave it sitting for 20-30 minutes.
After 20-30 minutes rinse it out. Even though you are using pureed baby food, it is extremely important to rinse well. An additional option is to do an additional co-wash with conditioner to help remove any remaining bits of food.
In general, treat this DIY like you would any other deep conditioner and do it once a week for long-lasting results. Every time I do this, my hair feels soft and restored. If you enjoyed learning about this, feel free to leave a comment and also share your favorite DIY hair masks below!