It's been quite the year and although it may not be a normal holiday shopping year, we can still dream, right? So, I thought I'd look at some of the best holiday curly hair gifts I'm seeing online for yourself or your curly friends.
I'm going to break it down into categories including curly hair gifts under $10, under $25, under $50, under $100, and $100 and over to help curly consumers stay within their budgets.
Holiday Curly Hair Gifts Under $10
The first item is the perfect stocking stuffer for curly girls and guys that want to experiment with color.
This dual-benefit mask with their trademarked ArganID™ deposits temporary color while thoroughly nurturing hair for a healthier look and feel. It's good for all hair types and textures and claims to hydrate, fight frizz, and add shine.
For a limited time, Mielle Organics if offering their Rosemary Oil & Moisture RX Conditioner Holiday Gift Set.
It includes full sizes of their Rosemary Mint Strengthening Scalp & Hair Oil and their Hawaiian Ginger Moisture RX Conditioner. Definitely worth the bundle considering the oil alone is around the same cost. It also happens to be the same oil I've been using the majority of this year for hair growth.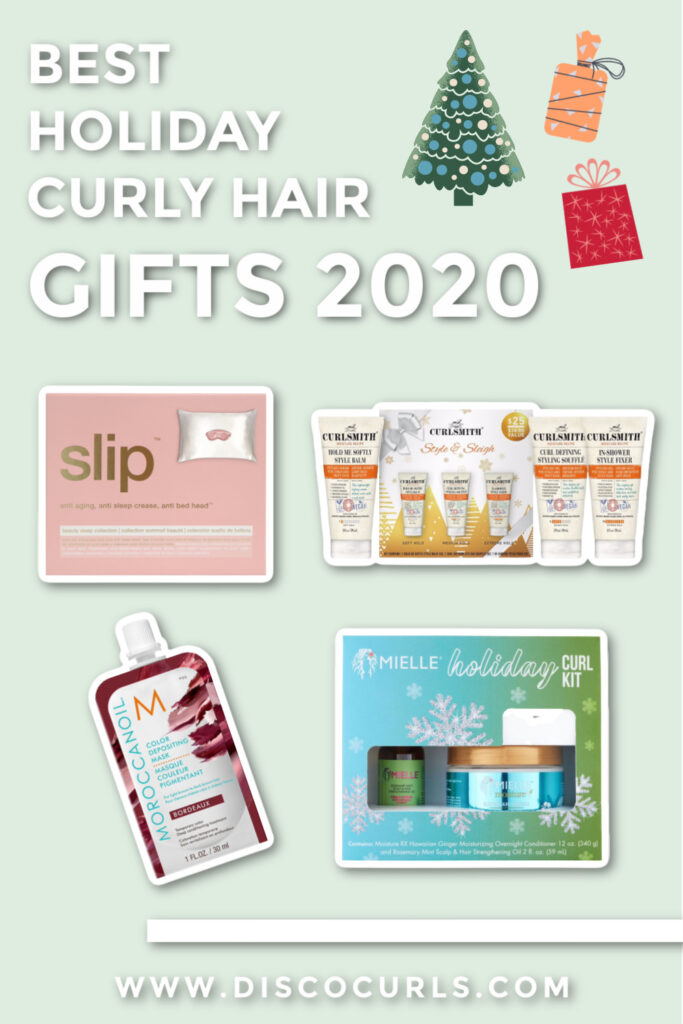 Holiday Curly Hair Gifts Under $25
This 8 piece kit is a great introduction to some of the most popular curly brands. It includes sample sizes of:
Bumble and bumble – Curl Defining Cream (1.0 oz)
Curlsmith – Curl Quenching Conditioning Wash (2.0 oz)
Devacurl – Supermousse Moisture-Rich Coconut Volumizer (1.7 oz)
Kreyol Essence – Haitian Black Original Castor Oil (0.17 oz)
Kreyol Essence – Haitian Black Rosemary Mint Castor Oil (0.17 oz)
Ouai – Wave Spray Deluxe (1.0 oz)
Ouidad – Revive & Shine Rejuvenating Dry Oil Mist (2.0 oz)
Pattern – Curl Gel (1.7 oz)
For my curly friends on-the-go, Bread Beauty Supply has created their Snac Pac Travel Size Wash-Day Essentials for Curly & Textured Hair.
It includes both a 3.3 oz size Hair Wash Gentle Milky Hair Cleanser and 3.3 oz Hair Mask Creamy Deep Conditioner. Plus, a bonus bread-puff (scrunchie) and collectible BREAD cosmetics purse to hold all of your items.
Curlsmith's Style & Sleigh Kit is the perfect solution for your friends and family that are looking to sample the Curlsmith stylers. Inside you'll find 2 oz. sizes of the Hold Me Softly Style Balm, Curl Defining Styling Souffle, and the In-Shower Style Fixer.
Holiday Curly Hair Gifts Under $50
For deep conditioning divas, Briogeo has an amazing multi-masking kit that includes an 8 oz. of their Don't Despair, Repair™ Honey Moisture Deep Conditioning Mask along with two travel-size masks.
Looking for a kit to achieve the perfect rod set? Look no further because Alikay Naturals put it all into this bundle. Their super popular lemongrass line will have your hair smelling sweet while providing major benefits.
Inside you'll find the Lemongrass Leave-In Conditioner, the Lemon Grass Styling Mousse, and the Lemongrass Sleek & Shine Finishing Oil.
If you're struggling with dry scalp, damage, split ends, and breakage Briogeo created an amazing duo kit that takes care of it all.
The Briogeo Detox + Restore Kit contains an 8 oz Scalp Revival™ Charcoal + Coconut Oil Micro-Exfoliating Scalp Scrub Shampoo plus a 8 oz Don't Despair, Repair!™ Deep Conditioning Mask.
Gifts Under $100
For my tight curl and coil friends, the Hello Gorgeous Hair Care System by Naturalicious has the perfect 3 step set.
Within each package, you'll get the Moroccan Rhassoul 5-in-1 Clay Treatment (8oz) that cleanses, conditions, deep conditions, detangles, and treats. Plus, the Moisture Infusion Moisture Styling Creme (4oz), and Divine Shine Moisture Lock & Frizz Fighter (4oz).
Wash and go lovers will enjoy this full-size kit that includes everything you need for wash day success!
Cleanse and condition with an 8.4 oz size Hair Wash Gentle Milky Hair Cleanser and a 12 oz. Hair Mask Creamy Deep Conditioner. Plus, you'll receive a 3.3 oz. Hair Oil Everyday Gloss and a Bread-Puff scrunchie made of 100% satin.
The Curlsmith's Detox Microbiome Scalp System is high on my wishlist because of my love for scalp care.
The 3-step system includes the Super Slip Pre-Biotic Primer (12 oz) to stimulate the follicles and protect it from clarifying, the Wash & Scrub Detox Pro-Biotic (8 oz) to exfoliate and clarify the scalp, and the Post-Biotic Calming Conditioner (12 oz) that nourishes, soothes, and rebalances the scalp and hair.
Holiday Gift Wishlist for Curls over $100
Creating the perfect sleep environment puts this item near the top of my list. Slip's Beauty Sleep Collection gift set include their slipsilk™ pillowcase and a slipsilk™ sleep mask.
Not only are you protecting your curls from unnecessary friction, you're also receiving the anti-aging and anti-sleep crease benefits the sleep mask.
That's going to complete my holiday gift wishlist for curly hair, I'm dying to know what's on your wishlist and if any of these made the cut. Share your favorites with me down below in the comments.