Last month, I was invited to NYC with a bunch of other curly influencers for the DevaCurl Buildup Buster launch. It felt like the trip of a lifetime because not only did I get to experience this innovative new product but I met so many of my curl sisters from the online world. Here's a recap of my two amazing days in NYC.
Day 1: Check in & Workout?
DevaCurl was so amazing for setting this trip up for us all. Many of us flew in from all corners of the country and some internationally. We checked into the hotel and were greeted with a goodie bag filled with a little swag and our itinerary. I was already prepped for the first activity which included a high-intensity dance cardio class at 305 Fitness. With no plans to actually take the class (because I was 6 months pregnant), I still dressed the part and filled my water bottle up to watch and laugh at everyone. But…
something happened when I got there, I saw Beyonce art plastered on the wall and heard the music blasting. My inner Beyonce wanted to come out to play…just at a lower intensity. I really needed to work out because I had been slacking so I stood in the back of the class and two-stepped my way through. Had I participated like the others, I may have delivered right there on the floor. Luckily, I knew that I had to listen to my body, take frequent breaks, and drink lots of water. We celebrated with a vegan meal at by Chloe and then I was off to bed.
Day 2: Devachan Salon & DevaCurl Buildup Buster Launch Party
Our next day started with a day at the Devachan salon for the 'Bounce Back" service. After grabbing a quick breakfast, I was greeted by Smadar, my hair stylist and she took me back to the shampoo bowl where I was introduced to Buildup Buster. After a night of breaking a sweat, it made complete sense to me to have this service. Buildup Buster is a micellar water cleansing serum that uses micellar technology to remove buildup from products, hard water and other environmental stressors. She explained how Buildup Buster is similar to a clarifying shampoo but doesn't strip the hair. Instead it leaves the hair soft with the help of abyssianian oil and jojoba esters. It can be used weekly instead of shampoo and should be followed up with a conditioner like DevaCurl One Condition.
After receiving my treatment, it was off to the chair where she used the DevaCurl Frizz-Free Volumizing Foam and DevaClips to bring volume to my roots. After my curls were dried, she finished off with a little spritz of the DevaCurl Flexible-Hold Hair Spray. My curls had tons of volume and they were party ready!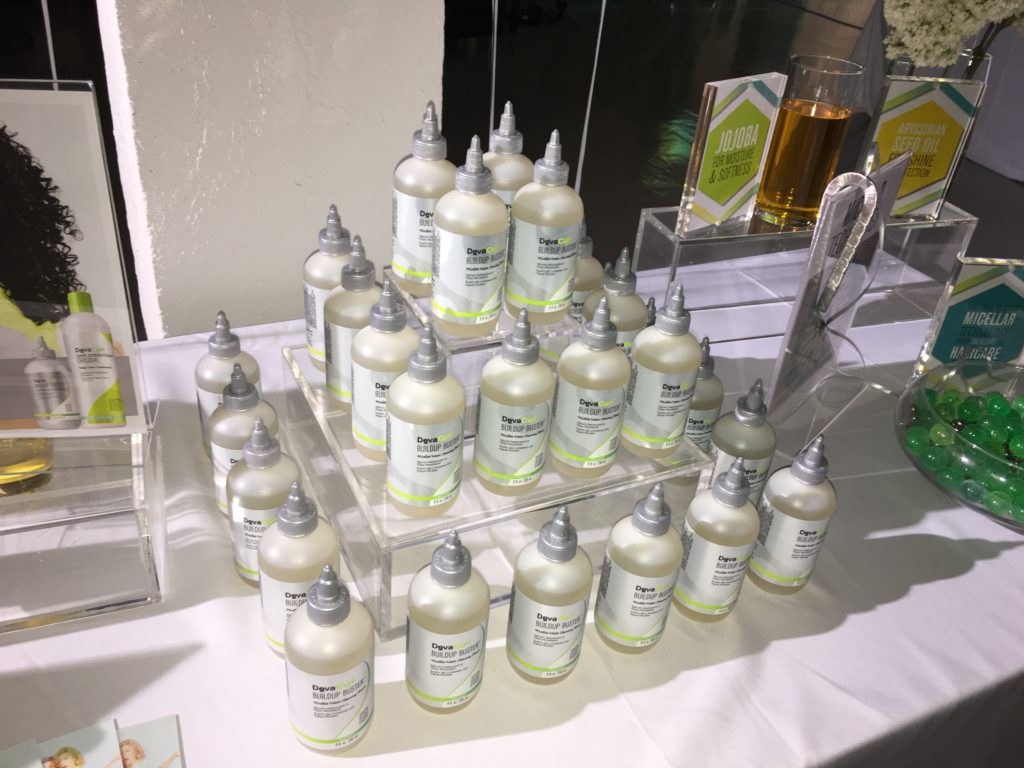 Later that night, we attended the Buildup Buster Launch Party. It was held at the beautiful Root Studios and I was in complete awe of all the curls in one room. There was a photographer, a slo-mo camera, a green screen station and Shake Shack ( I have to admit that got me really excited). I gravitated to the slo-mo camera because I always wanted to star in my own hair commercial (who doesn't). In addition, a group of us jumped into the green screen station to create our own Buildup Buster commercial. Most importantly, I had the opportunity to meet some of my favorite curly influencers and turned my online friends into real ones.
Big thanks to the team at DevaCurl for this opportunity! It truly was an amazing trip that united my curly sisterhood.
Have you had the chance to try DevaCurl's Buildup Buster? Let me know how it's working for you down below in the comments…
Watch the vlog from my trip to NYC: