Some of the links in this post may be affiliate links. This means if you click on the link and purchase the item, I will receive an affiliate commission at no extra cost to you. All opinions remain my own.
With the state of the world today, washing your hands to practice good hygiene is a top priority. Personally, my hands have never been drier and it's been a challenge to keep them hydrated. I'm sure I'm not alone, so I created a list of my favorite hand creams for frequently washed hands.
Affordable Hand Creams
Aveeno Intense Relief Hand Cream
With claims that it lasts through hand washing and moisturizes for 24 hours, I find this to be one of the best affordable options. The Aveeno Intense Relief Hand Cream uses colloidal oatmeal (finely-ground oatmeal commonly used to soothe and protect the skin among other things), to help heal and protect your dry skin.
My sensitive skin enjoys the fragrance-free and steroid-free formula. Plus, it's non-greasy and fast absorbing.
Nubian Heritage Raw Shea Butter Hand Cream
Currently on my computer desk is the Nubian Heritage Raw Shea Butter Hand Cream. It's been a lifesaver for my hands in between typing and caring for the kids. It's made with a nutrient-rich formula that contains raw shea butter, soy milk, vitamin E, Frankincense and Myrrh.
Anytime I use this age-defying cream, it feels rich and not greasy. It helps the deep lines on on my hands appear smoother after each use.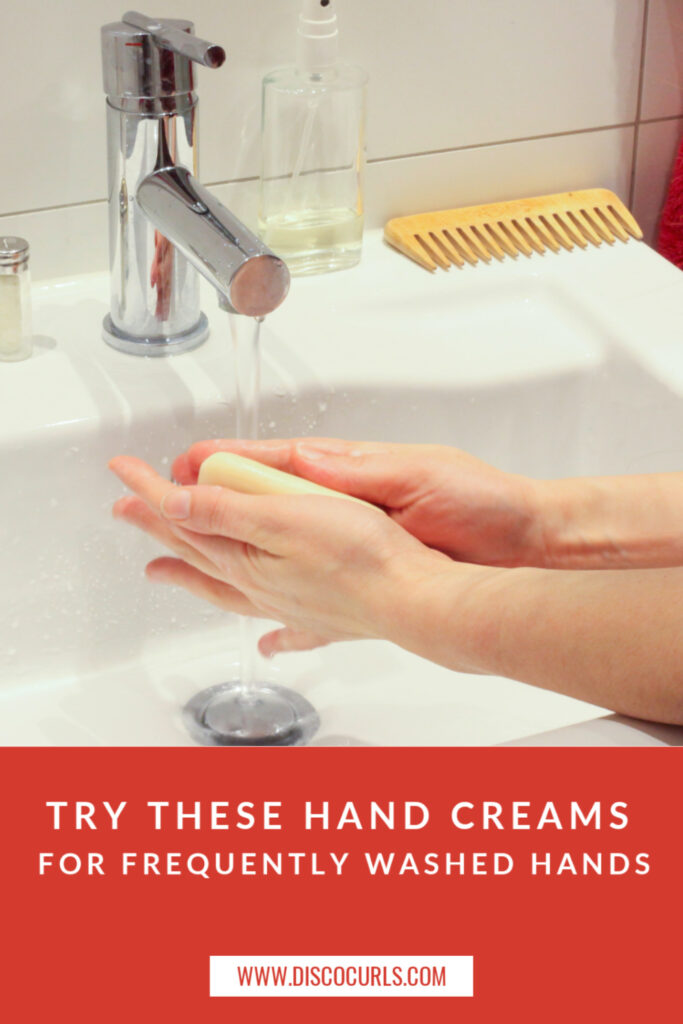 Luxury Hand Cream Options
L'Occitane Shea Butter Hand Cream
One of my long-time favorites is the L'Occitane Shea Butter Hand Cream. It's made with 20% shea butter, coconut oil, honey, and marshmallow root extracts, and heals my cracked knuckles instantly.
Despite it feeling more like a balm, it absorbs well into my skin. I try to purchase the Shea Butter Hand Cream Trio set to always have a restock for my purse.
AHAVA Dead Sea Mineral Hand Creams
This luxurious hand cream (and my personal favorite) uses a formula made with the Dead Sea water and witch hazel. With 21 essential minerals and AHAVA's signature mineral catalyst, Osmoter, my hands feel deeply hydrated, not sticky, and the moisture is locked-in.
The Cactus & Pink Pepper and Sea-Kissed scents offer different fragrance options to cater to your preferences. I tend to go with the original fragrance which smells sweet and nutty.
This is on the pricier side but I seem to repurchase it time after time.
Josie Maran Argan Infinity Cream Intensive Creamy Oil
Calling this just a hand cream wouldn't do it justice. Josie Maran's Argan Infinity Cream Intensive Creamy Oil is more multipurpose and offers intense, long-term hydration using a cream-to-oil formula.
Included in this formula is argan oil, vitamin E, antioxidants, and fatty acids. With the consistency more true to a salve, it does leave the skin a bit on the greasy side. Still, my hands feel luminous and smooth.
Some of the most common areas it hydrates include:
Chapped hands
Dry lips
Dry cuticles
Elbow and knees
One of my favorite ways to use it was as a mixing medium for makeup to create cream formulas.
What are some of your favorite hand creams for frequently washed hands? Share with the community down below in the comments.