As many mothers know, during pregnancy, you will be blessed with luscious, full locks of hair that will make you do a double take. Unfortunately, you are likely to lose a large portion of it after delivery when your hair returns to its normal growth cycle. My postpartum hair loss is in full effect since having my son. It didn't start until about 10 weeks postpartum but it's important to share my story to help the other mothers or mothers-to-be out there.
Why does postpartum hair loss happen?
The normal hair growth cycle begins with the anagen phase (the growth phase), the catagen phase (the transitional phase), and the telogen phase (the resting phase). It is at the end of the telogen phase that a new hair shaft will surface resulting in shedding. The increase of estrogen during pregnancy causes the hair to continue growing and the hairs that are supposed to shed remain in place which gives the appearance of fuller, thicker hair.
Postpartum hair loss happens because when your hair returns to it's normal growth cycle, all of the hair that was supposed to shed suddenly sheds all at once. If you shed 100 hairs per day normally but don't shed any for 9 months, do the math and imagine whats to come in your postpartum future. What I've learned is that it is totally normal and eventually your hair will return.
My postpartum hair loss story
Around 10 weeks postpartum, I noticed an excessive amount of hair coming out of my Wet Brush while detangling. Although it was expected, it still took me by surprise. Some might cringe over this next statement but I started collecting the shed hair to document my hair loss. The image below shows the average amount of hair loss I experienced from each wash day.
Along with the hair loss comes the emotions. How much hair am I going to lose? Will it ever grow back? What you don't know is that over time, I've developed a thick skin because of a previous bout with traction alopecia. It's haunted me for years from wearing weaves and high manipulation styles.

Postpartum regrowth plan
My main concern, even more than my hair appearing thinner, is preserving my edges. They definitely were hit hard and are now noticeably thinner. The one good thing is that during all of my time on YouTube, I have learned to bring them back from the dead. Some of those things include:
Continuing with my prenatal vitamins
Keeping my scalp clean by using a clarifying shampoo
Deep conditioning my hair once a week
Using a Q-Redew handheld vapor wand to open up the pores on my scalp
Including essential oils like peppermint and rosemary in my shampoo & stylers to promote growth
Nightly scalp massages using a carrier oil and a couple drops of essential oils (peppermint, rosemary & tea tree are my favorite)
A new technique that I'm going to include is the use of a derma roller. A derma roller is a handheld device that has hundreds of tiny needles and is commonly used to produce collagen on the skin. It is also said that its use can help stimulate hair growth. With my fear or needles, it sounds like the last thing I want to try. However, if it works it will be so worth the pain!
My postpartum hair loss case hasn't been terrible considering my history. It's now been 6 months postpartum and it has definitely slowed down. There is a noticeable improvement on my hairline and hair overall. In total, the experience lasted about 3 months and I'm finally feeling like myself again.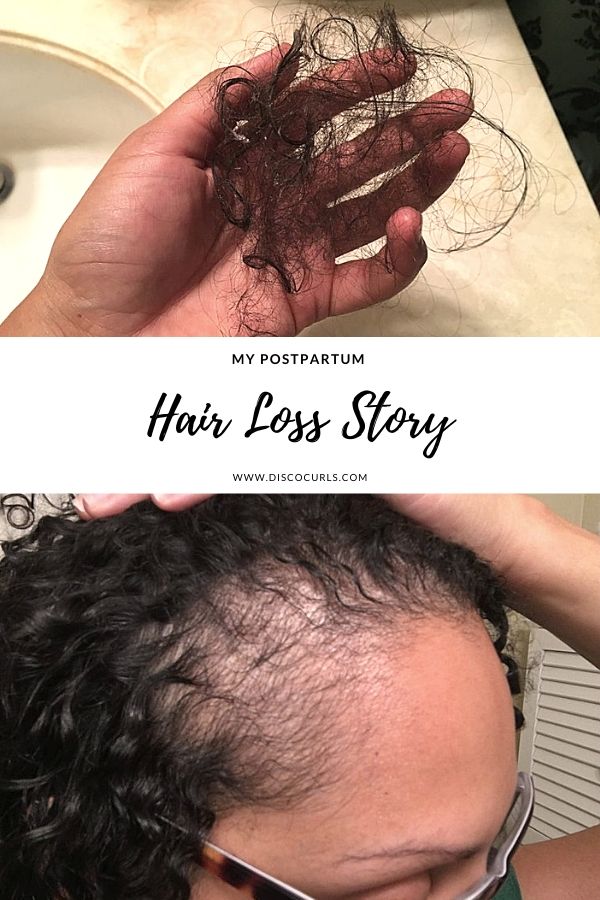 What are your favorite ways to speed up your postpartum hair growth? Share with me down below in the comments…
Video: MY POSTPARTUM HAIR LOSS & SHEDDING | MEET MATTEO | DISCOCURLSTV