Some of the links in this post may be affiliate links. This means if you click on the link and purchase the item, I will receive an affiliate commission at no extra cost to you. All opinions remain my own.
This article was done in exchange for a few sessions at The Body Sculpt LA. All opinions are mine alone and I'm so excited to share them with you. 
Ever heard of body sculpting? Although this has been around for a while, it's had a major revival with the help of social media. These non-invasive treatments help firm and tone the body and can help improve the hard-to-tone areas. Although I have grown to love and accept my postpartum body, there are times that I wish my clothes fit better, primarily in my mid-section. It had become uncomfortable to sit for long periods of time and I was ready to see a smoother waistline. These treatments may not be everyone's cup of tea but it was the right choice for me.
My Fitness History
I've been into fitness my whole life. It started with dance and cheerleading while also participating in team sports like softball, soccer, and track and field. Track and field was my absolute favorite sport. I'm highly competitive and love to race (especially with my Jamaican roots). After high school, I focused on dance and started weight training. It really helped develop my muscle memory and a more muscular physique. This is probably when I felt like I was in the best shape.
However, let's face it, age, hormones, and having children will change a woman's body. And don't get me wrong, I still love my body! I'm still proud of how I look at (almost) 45 years old. It's just different now.
I've been consistent in weight training my entire adult life with the exception of 2020 (we all know why). Moreover, in 2020 I had two young boys, ages 3 and 1. My body shape completely changed and even with consistent training over 4 years, I wasn't seeing much improvement in my mid-section. So, I decided to try body sculpting.
Note: Please understand that I'm well aware that the women's body is AMAZING, and takes time to adjust to having children. This is not a judgment piece on postpartum bodies, just a choice I made to make myself feel good!
So, What is Body Sculpting?
In a nutshell, body sculpting can help smooth the areas that are typically hard to tone. Sometimes even with strict dieting and exercise, certain areas just won't improve. This is where body sculpting can help. It uses non-invasive contouring treatments that sculpt and refine your figure. There are many different techniques that can be used based on your needs. They include both modern and minimally invasive modalities.
For my treatments, I chose a location that offered multiple techniques. I wanted to target my stubborn belly fat, bra bulge, and love handles. Some of the treatments offered included:
Body Cavitation: Ultrasound cavitation uses scientifically proven non-invasive technology to break down unwanted fat
Radio Frequency: a non-invasive heat treatment that helps tighten, contour, and refine deeper lines of the skin over the face and body
Wood Therapy: This employs anatomically sculpted wooden tools to improve the body's size and proportions while advancing overall health. This therapy helps contour the body, reduce cellulite, and facilitate weight loss.
Vacuum Therapy: this stimulates muscles and plumps areas such as the buttocks. It also helps restore the skin's natural elasticity to smooth the appearance of wrinkles and "orange-peel" dimpling in the thighs and buttocks.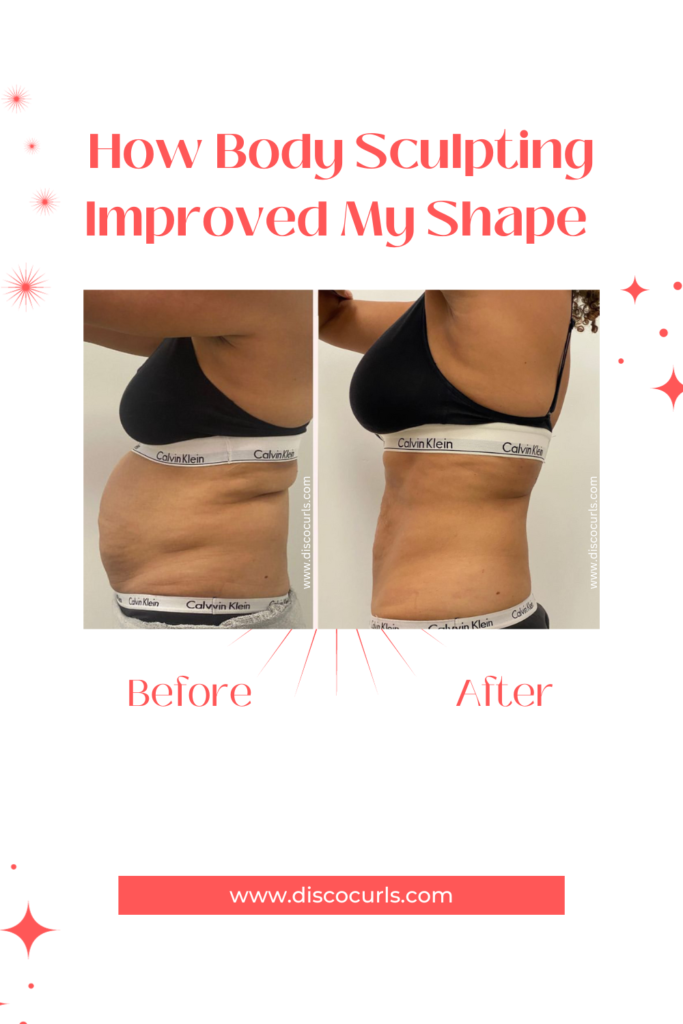 My Experience at The Body Sculpt LA
There are so many body sculpting options here in Los Angeles so I really had to research. I started by looking at before and afters on Instagram, followed by Yelp reviews, and finally, I called and spoke to the ones I narrowed down. I ended up at The Body Sculpt LA in Burbank, CA as they were closer to my area but more importantly, the owner, Maggie, was passionate, thorough, and confident about the process. She spent well over 20 minutes going over what to expect before I even stepped foot in the door.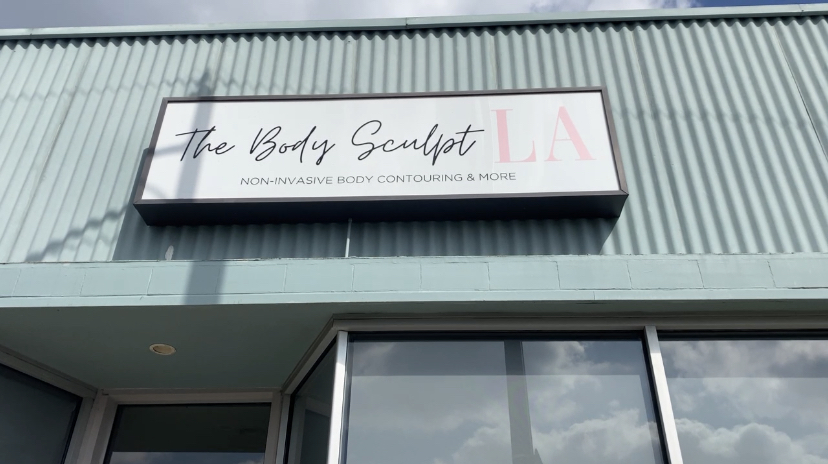 Preparing for the appointment is super important as it requires you to drink A LOT of water, wear loose clothes, and much more! This is so you have the best possible results. As I mentioned before, I did a few sessions in 2022 which included a combination of the Waist Sculptor (Front & Sides or Back & Sides) and the Back Blaster (Bra Bulge or Love Handles). I also included add-ons like the Laser Lipo (Red Light Therapy Belt) and the Vibration Plate.
Results from Body Sculpting
My treatment plan was based on my consultation with Maggie. This included Body Cavitation, Radio Frequency, and Wood Therapy. I did a total of 9 treatments in 2022 over a couple of months and saw amazing results. My stomach felt smaller, my back fat and bra bulge shrunk, and lost about 7 pounds! And just so we are clear, I had been weight training, doing cardio, and eating healthy before and during my treatments. The treatments just sped up the results and kept me super motivated.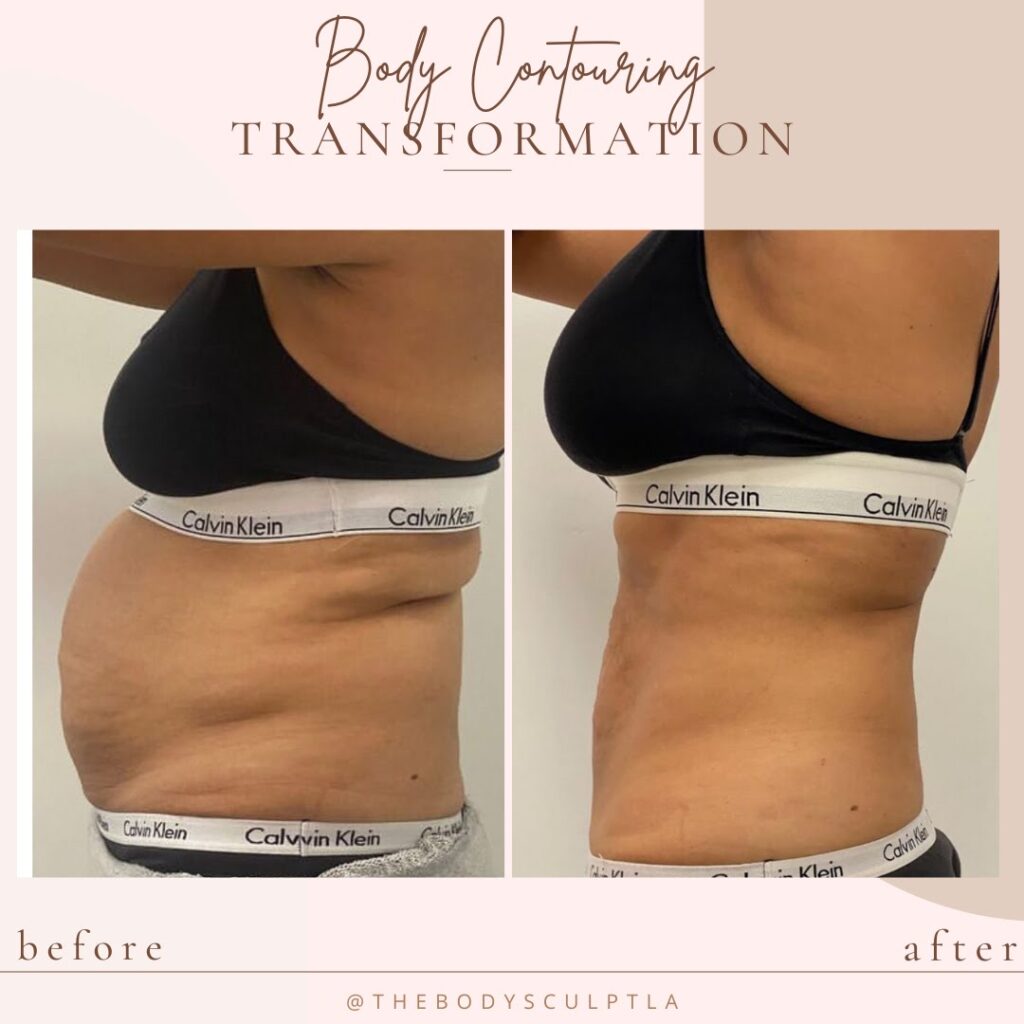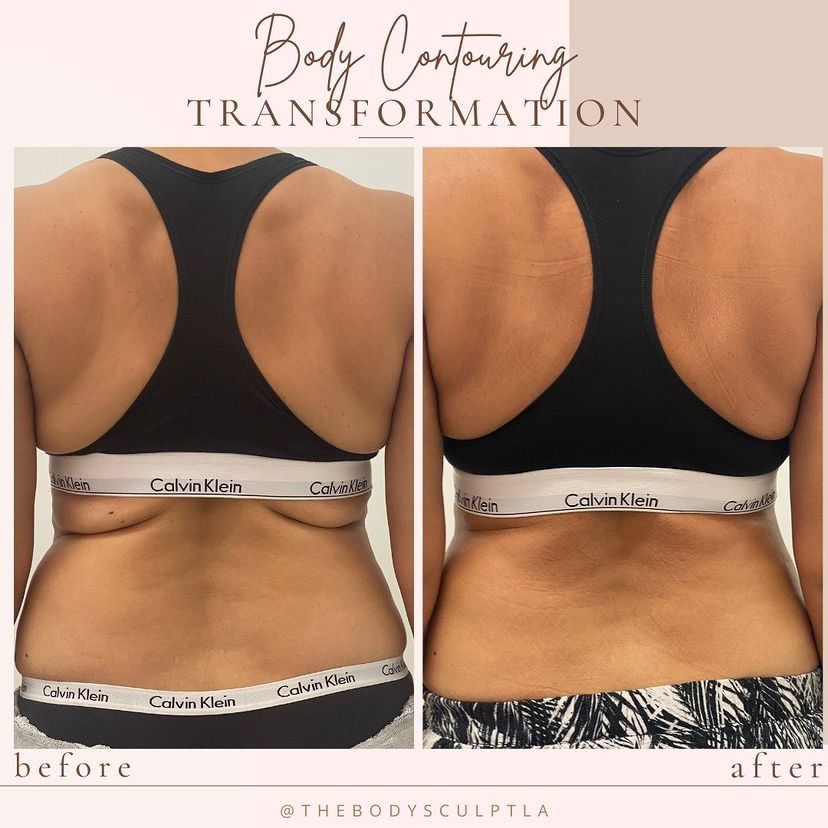 In 2023, I continued with my fitness goals and just recently went back for another 3 sessions with Maggie. I was proud that I had maintained what I lost, plus an additional 5 pounds on my own. However, with weight loss, you may experience loose skin and The Body Sculpt LA has helped me shrink and tighten up those areas.
Overall, my choice to try body sculpting has helped tone up the areas in my midsection. I feel healthier, less out-of-breath, and leaner with the help of some of these treatments. This is not a replacement for working out and dieting but in my experience, it can jump-start and help maintain your body shape!
If you live in the Los Angeles area and are interested in body sculpting, be sure to visit The Body Sculpt LA for your treatments. Let them know Rochelle from www.discocurls.com sent you over and take advantage of their new client special!