Some of the links in this post may be affiliate links. This means if you click on the link and purchase the item, I will receive an affiliate commission at no extra cost to you. All opinions remain my own.
Mother's Day is right around the corner and it's a wonderful reminder of how far I've come as the mother of 2 boys. They are a huge blessing and have brought me many memories. For this Mother's Day, I'm looking forward to brunch and I wanted to create a cute braid out style to wear out. I recently cut my hair into a bob and wanted to share how I created an easy Mother's Day brunch hairstyle on my fine, curly hair.
How to Create this Mother's Day Brunch Hairstyle
For this braid out, I like to start on dry hair. Then, I begin by combing out my curls to make sure there are no tangles. Next, it's important to establish how you would like your hair to fall. I chose a deep side part so I section the hair from the arch of my eyebrow to the back of my ear.
Then I take the back half of my hair and place it into a ponytail. With the front section, I add a small pump of my Jane Carter Solutions Wrap & Roll foam to it. Then, I smooth a small amount of Uncle Funky's Daughter Curly Magic on that same section. This just ensures that there is plenty of hold.
Now it's time to begin cornrows. The size of your sections will determine if you will have loose or tight waves. I chose to make mine smaller this time around. Cornrows use a similar technique to what some call Dutch braids but there tends to be more than one row of braids.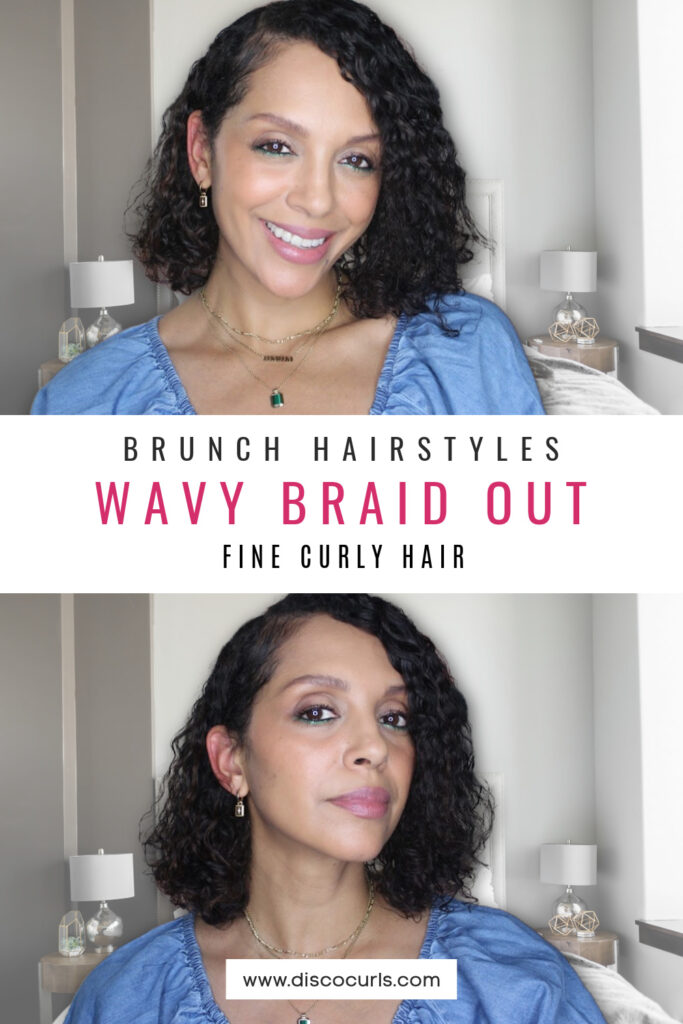 Braid Out Tips for Success
In a nutshell, you begin with a regular braid, then add new outside sections to your braid. You take one outside section, cross it under the middle section, and repeat on the opposite end. This process repeats until you can't grab any more outside sections and finishes off with a regular braid
After completing the first row, the next step is to make another section and repeat the entire process. Once I've completed all of my cornrows, I add a perm rod to each end. This ensures that there's a little bend on the ends when you take your braids down. Then, I wrap my hair in a silk or satin scarf and go to bed.
Styling the Braid Out
The next morning, I take down my scarf and smooth a little bit of oil on my hands. Then, I begin unraveling the braids. This helps my waves look super shiny for this style. After all the braids are taken down, I shake gently underneath to loosen up the pattern.
The end result is a chic, wavy bob that can be worn just like it is or with hair accessories. It's the perfect easy hairstyle for all occasions that will be sure to turn heads. Let me know if you are feeling this hairstyle by sharing it down below in the comments.